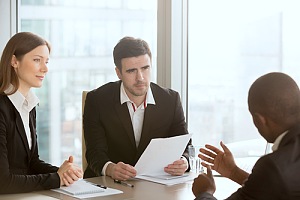 Employees becoming sick or getting injured on the job is quite common, and most cases are covered under a workers compensation policy. However, there are instances where worker's compensation is unable to cover financial losses that arise from workplace injuries, illnesses, or suits. Through an employment practices liability insurance (EPLI) policy, employers are protected from financial loss which is not covered through a worker's compensation policy.
Employment Practices Liability Insurance Policy Coverage
A worker's compensation policy provides coverage for expenses and losses for employees who are injured, become ill, or killed as a direct result of their employment. In some cases, employees can sue the company if they feel like their workers' compensation does not adequately cover their losses and or expenses. By acquiring an employment practices liability insurance policy, companies are covered from expenses that are not covered by a workers' compensation or general liability insurance policy.
Costs Associated With Legal Suits
In the event of a lawsuit, an EPLI policy covers the defense costs associated. Regardless of whether or not the suit is warranted, the fees and costs tied to defending the organization can be financially crippling.
Employee Discrimination
As companies grow, the potential for alleged employee discrimination claims subsequently increases as well. An EPLI policy covers employers and companies against employees who claim alleged discrimination. Common claims include:
Sex discrimination
Race discrimination
Age discrimination
Disability discrimination
Wrongful termination
Sexual harassment
Speak To A Business Insurance Broker Today
Although most cases related to employee injury or illness are covered by a workers' compensation policy, a case that is not covered can financially destroy a company. To ensure the growth and prosperity of your company, it is important to acquire an employment practices liability insurance policy to safeguard your assets. For more information or to acquire a policy today, give Pro Insurance Group a call at 833.619.0770 or by requesting a quote online.