HOA insurance is available to homeowner's associations (HOAs) to protect the association from liability arising from injuries or damage occurring in the HOA's common areas. HOA insurance is different from the homeowner's insurance that nearly every homeowner has for their own homes. It is important to understand your HOA's insurance coverage. The HOA insurance coverage may cover you for risks that you do not then have to insure under your own homeowners policy.
HOA Insurance Explained
If you own a home that is located in a community with an HOA, your HOA likely owns property that is designated as common areas. Common areas may include roads, sidewalks, playgrounds, pools, walking trails, dog parks, tennis courts, easements and any other area that is for use by any community resident and their guests.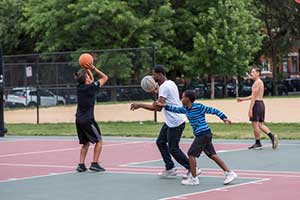 In the majority of cases, the HOA is responsible for maintaining those common areas. If someone is injured on the property, or if HOA property is damaged, your HOA could be liable. To protect the HOA and its members against those risks, your HOA should have adequate insurance coverage. Without HOA insurance, each homeowner will be responsible for injuries and damage involving HOA property.
HOA insurance is different from the insurance each homeowner has on their home. HOA insurance will not provide coverage for damage to your home or for injuries on your private property. HOA insurance only covers risks involving the HOA's common areas and shared spaces.
HOA insurance is sometimes referred to as the community's master insurance policy. When you pay your monthly HOA dues, a portion of the amount paid is applied to the cost of that insurance. Whether you use any or all of the common areas, you are obligated to pay a certain amount of monthly dues, which includes your share of the HOA insurance costs related to the HOA common areas.
HOA Master Policy
The HOA master policy covers a range of risks and is tailored to meet the needs of a particular HOA. The master policy for an HOA consists of basic property and liability insurance. As explained previously, the master policy insures shared spaces and structures owned by the HOA. Under the master policy, each HOA homeowner is covered for any HOA liability expenses arising from an injury on HOA property and for property damage to an HOA building or shared spaces.
The coverage limits depend on the size of the HOA and the amount and type of common areas to be insured.
HOA Insurance Coverage vs Condo Insurance Coverage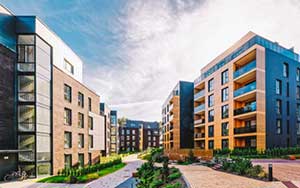 If you own a condo or co-op with an HOA, your HOA's master policy will be tailored to provide coverage to meet the obligations of the association. In some condo or co-op HOAs, hallways, activity rooms, walkways, building roofs and balconies are HOA responsibilities; a master policy for such an HOA should cover those areas.
Make sure you are not paying to insure HOA property on your individual condo insurance. If you are unsure what the HOA is responsible for, review your HOA documents. They will spell out exactly which areas are HOA responsibilities (which should be covered under the condo HOA insurance) and which are the responsibility of the condo owner.
A condo HOA master policy is usually available in two different types:
Bare Walls-In
A bare walls-in policy covers only the condo structure, meaning it covers the drywall and everything behind the walls, including the framing, wiring, plumbing and insulation. Everything else would need to be covered by the individual condo owner's homeowners insurance.
All-In
An all-in policy covers more than the bare walls-in policy. The all-in policy covers everything that a bare walls-in policy covers, and additionally covers fixtures. Examples of fixtures include kitchen and bathroom countertops, sinks and built-in appliances. An easy way to understand what an all-in policy covers is that it covers anything you did not move into the condo and that you cannot take with you when you move out.
However, all-in coverage usually does not cover renovations to the unit. Depending on the renovations and the terms of your existing master policy, you may need supplemental dwelling coverage. Your insurance agent can help you determine whether that is the case.
Additional Coverage You May Need As A Condo Owner
Consult with your insurance agent to determine if you need additional insurance coverage. Additional coverage may include dwelling coverage, loss assessment coverage (pays for losses affecting common areas once the master policy has reached its coverage limit), loss-of-use coverage or liability or medical payments coverage.
Comparing HOA Insurance To Homeowners Insurance
HOA insurance only covers common areas in your HOA community. It does not cover your home or property, nor is it affected by HOA insurance the same way it could in a condo HOA.
When insuring a single family home in HOA, however, you may want to consider whether you should get loss assessment coverage. That coverage will cover you in the event the HOA is liable for injuries or losses relating to common areas and the master policy has reached its coverage limit.
Get Help From The Specialty Insurance Experts
HOA insurance will protect HOA members from liability for injuries and property damage when it occurs in the HOA common areas. Consult with the specialty insurance brokers at Pro Insurance Group to discuss HOA insurance coverage or for assistance with evaluating your insurance needs by calling 833.619.0770 or by requesting a quote online.