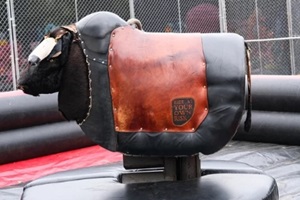 An estimated 27,903 people were injured riding mechanical bulls in the United States between 2000-2020. Most, not all, injuries typically occur when people are thrown off the bulls, often leading to emergency room visits.
Companies can mitigate risk by meeting safety standards and purchasing mechanical bull insurance. Learn more about the vital role each plays in protecting customers and reducing financial risk.
Maintaining Safety Standards
Implementing and maintaining safety standards reduces the risk of injuries due to falls, whiplash, strains, and sprains. Additionally, carefully trained operators decrease the likelihood of equipment malfunction when following safety protocols.
Train Riders Before They Mount the Mechanical Bull
It's estimated that 61.6% of mechanical bull injuries result from riders being thrown or falling off the bull. To reduce the risk of injury, discussing the potential risks with customers before they mount the mechanical bull is essential.
Employees must also educate customers on the safety standards they must follow during the ride. This includes the protocol for mounting and dismounting the bull. Employees should also demonstrate the techniques people use to maintain balance on the ride.
Ensure Riders Have the Proper Gear
Mechanical bull operators should provide safety equipment that customers must wear during the ride. Helmets protect against concussions, while shoulder and knee pads reduce the risk of abrasions. If riders refuse to wear the protective gear, do not allow them to mount the mechanical bull.
Refuse to Allow Intoxicated Riders on Mechanical Bulls
Because mechanical bulls are often ridden at parties, operators must ensure that all riders are of sound mind. Intoxicated riders are more likely to become injured, making the mechanical bull operator possibly liable.
For instance, a woman sued a Manhattan restaurant after tearing her ACL on a mechanical bull. She said the operator shouldn't have allowed her on the ride since she was visibly intoxicated.
Clear the Area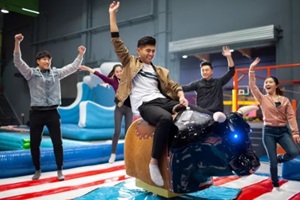 Mechanical bull riders can become injured if they fall off the bull and hit another object or person. Thus, establish a cleared perimeter around the ride and remove any trip and fall hazards in the mounting, dismounting, and immediate areas.
This includes electrical cords that customers might trip over when mounting or dismounting the bull.
Next, always make sure the area is clear before starting the ride. Additionally, monitor the perimeter during the ride to prevent spectators from getting too close.
Train All Operators
Mechanical bull operators must know all of the manufacturer's restrictions and limitations. Additionally, they need to be correctly trained on operating the bull, including how fast to go for different customers.
For example, they need to take it slower when children are on the ride to decrease the risk of injury. Finally, ensure that the operators focus on the rider and have a plan to stop the ride if the customer is in distress.
Conduct Regular Checkups and Maintenance
Operators should inspect the mechanical bull daily before opening it. Train employees to look for any signs of wear or tear that could impact rider safety. Additionally, they must ensure all parts are tightly fastened, and the bull is properly working. The bull must be repaired before allowing anyone to ride if it doesn't pass inspection.
Purchase Mechanical Bull Insurance
Purchasing the appropriate mechanical bull insurance is also critical. There are several policy options based on the specific needs of the owner.
General Liability Insurance
Mechanical bull injuries often lead to expensive medical claims and high-value lawsuits. For instance, a New Jersey man filed a lawsuit for $5 million after getting injured riding a mechanical bull at a carnival.
Thus, general liability coverage is the most important type of mechanical bull insurance for operators. The policy covers medical expenses and legal fees, including the cost of defending the lawsuit and paying an applicable settlement.
This policy also provides coverage if a customer makes a claim for property damage. For instance, if the mechanical bull malfunctions and damages someone's cell phone, the operator can file an insurance claim to cover the costs.
Additionally, general liability offsets financial liability due to advertising injuries, such as slander and defamation.
Other Mechanical Bull Insurance Options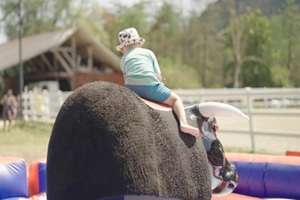 Most mechanical bull businesses require additional policies as well. Businesses with one or more employees must have workers' compensation insurance. Employees can become injured when maintaining and operating the ride; this policy covers lost wages, medical bills, lawsuit expenses, and more.
Additionally, businesses may need commercial property insurance to cover losses to the structure and contents inside of it. There are also separate policies available for mechanical bull manufacturers and retailers.
Get a Quote for Mechanical Bull Insurance
Operating mechanical bulls creates specific risks that general insurance policies may not cover. An insurance broker can provide more details about activity-specific coverage. Contact Pro Insurance Group to consult directly with a broker.
The broker will discuss the nature of your business, including where it's operated, the average number of riders, and other factors that impact the coverage you need.