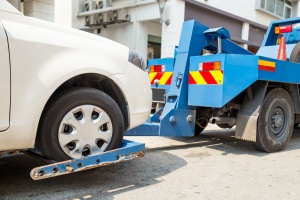 If you own or operate a towing or hauling business, you probably already know what on-hook towing insurance is; in fact, the laws of your state may require you to have on-hook towing insurance as a condition to granting your business license. Whether your state requires that insurance or not, no towing or hauling business should operate without it.
What Does On-Hook Towing Insurance Cover?
On-hook towing insurance covers your customer's vehicle if it is damaged while it is hooked up to your tow truck or your hauler, and you or your driver is at fault. It covers the expense of repairing or replacing a vehicle you do not own if it is damaged or stolen. The damage could be as minor as a dents or scratch, or it could be a total loss. In any event, your business is financially responsible for it because it happened when the vehicle was in your care.
Theft is also covered by on-hook towing insurance. Coverage includes theft of the entire vehicle and theft of some of the vehicle's parts.
Vandalism is another common problem. Vandalism is a risk when you are traveling through areas of high crime or when you have to leave the vehicle unattended for even a short period of time.
If the vehicle is damaged in a collision that is your fault or the fault of your driver, on-hook towing insurance covers that, too. It also covers more unusual situations such as damage due to an explosion or fire.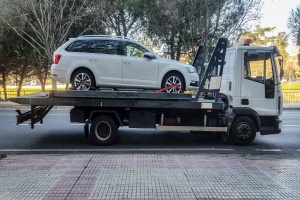 The on-hook towing insurance also covers the customer's vehicle if the damage occurs while it is being hooked up or loaded onto your truck or while it is being unhooked or unloaded. Do not make the mistake of thinking that the insurance you have on your own tow truck or hauler is enough.
Unfortunately, the insurance you have on your own business vehicles does not cover any vehicle that belongs to someone else even though it is hooked up to your rollback or wrecker when the damage occurs. That is why it is important that towing and hauling businesses get on-hook insurance coverage; without that coverage, your business may face a significant loss that it may not be able to afford.
Liability Insurance As A Prerequisite
A trucking company typically needs to have liability insurance before it can get on-hook insurance. Liability insurance is also required in most states as a condition to obtaining a business license.
How Much Does On-Hook Towing Insurance Cost?
Pricing for on-hook towing insurance takes into consideration a number of different considerations. They include:
Where the towing or hauling service operates.
How long you have been in the business.
How far you travel in your business.
The make, model and year of each of your tow trucks, haulers, rollbacks and any other service vehicles you have in your business.
The number of trucks your business owns or leases.
The safety record of your business.
Your drivers' driving records, ages and experience.
Your coverage limits and deductible (more on that explained below).
The type of vehicles you typically tow (new, used, disabled, passenger cars, trucks, boats and others).
On-hook towing insurance is similar to other insurance policies in the sense that you will have to specify coverage limits and decide on a sensible deductible. The coverage limit should be high enough to cover most of the risks of damage that you can reasonably foresee; however, the higher you set the limit, the higher your premiums will be. You can offset some of that cost by choosing a higher deductible. With a higher deductible, you will pay more out of pocket for each occurrence before the insurance kicks in. You can work with a knowledgeable insurance agent for help in finding the best balance for your business.
Help Keep Your Insurance Costs Lower By Promoting Safe Practices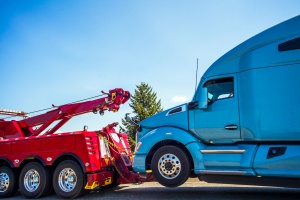 Good strategies for reducing the cost of on-hook towing insurance involves taking steps to emphasize the importance of safety in your business. Some ways you can promote the importance of safety include:
Hold regular safety meetings in your workplace with your employees.
Require your drivers to participate in good quality safety training.
Keep abreast of best practices in the towing and hauling business.
Have written workplace safety policies that are posted in public areas and in places that are easily accessible to your employees.
Have a zero-tolerance for distracted driving, such as using hand-held devices while driving, driving under the influence or driving without adequate rest.
Keep accurate logs pertaining to vehicle mileage, age, inspection and maintenance.
Do adequate background checks when hiring new drivers and hire people with safe driving records.
Contact The On-Hook Towing Insurance Experts At Pro Insurance Group
Make sure your towing or hauling business has the insurance it needs to cover your obligations should an accident occur. Work with the insurance professionals at Pro Insurance Group allowing you to operate your business with confidence. They are available to help you evaluate your insurance needs and answer your questions about coverage.