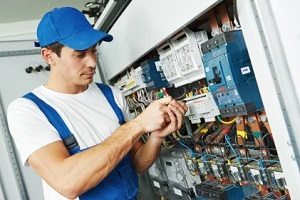 As the world becomes more reliant on electricity, electricians maintain a job that is constantly changing, and that can also be quite dangerous. Whether your company is just starting out or is an established firm, many considerations will go into protecting your clients, your team and your assets.
Many electricians work a variety of jobs sites including new homes, major renovations and commercial locations. At any one of these locations there is always a chance of damaging the property of the client, losing tools or suffering injuries. Having the right insurance policies and coverage as an electrician can protect your crew, your clients and your business.
The cost to provide this protection is often more affordable than anticipated and will be more than worth it in the event of a crisis. To help you better prepare for electrician insurance, here's a closer look at what coverages and costs you may expect, and what affects those costs.
Electrician Insurance Coverage
Electrician insurance is a type of small business insurance that allows you to customize the policy to fit the needs of your particular business. Because each business is unique, there is no one-size-fits-all approach to choosing insurance.
Typically, most insurance professionals recommend these types of coverage:
General liability coverage: This covers property damage and claims regarding any bodily injury.
Business income insurance: Provides reimbursement for any lost income if your company is unable to operate due to property damage.
Workers compensation coverage: Monetary protection in the event that you or an employee becomes ill or injured on the job. Required by most states.
Hired and non-owned auto insurance: Coverage for physical injury or property damage incurred while in the operation of a borrowed or owned commercial vehicle.
Other types of coverage that may be applicable to your business:
Errors & Omissions Insurance: Protection against claims in the event the services rendered to a client are inadequate.
Cyber liability insurance: This coverage is for financial losses in the event of a data breach or cyber attack, which is important if you store any customer information or have an interactive website.
Advertising coverage: Safeguards are provided against claims of slander, libel, copyright infringement and/or invasion of privacy.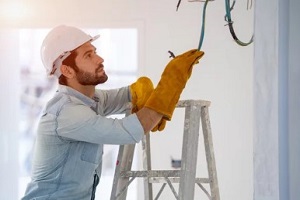 It is important to note that general liability coverage applies to damage done to third-party property. To cover damages to your commercial property (such as hand tools, amp meters, batteries, power tools, etc.), you would need to acquire commercial property insurance or commercial umbrella insurance.
In general, the types of things not covered by these policies include natural disasters, war, government seizures, initially fraudulent acts, and radioactive fallout.
Cost of Electrician Insurance
Multiple factors will influence the cost of electrician insurance. It can cost as little as $50 a month/$600 a year or even several thousands a month, depending on the types of coverage and policy amounts needed. This will vary according to the specific needs of the individual business.
Some factors that can influence the cost include:
Location of business and operation, specifically the city and state
Volume of high versus low voltage work
Volume of commercial versus residential work
Volume of remodeling vs. new installation work
Number of employees
Number of vehicles in your fleet
General cost of existing tools and equipment
Yearly and total revenue
When discussing quotes with insurance providers, it is important to give honest and accurate information about your business in order to receive appropriate coverage. This also ensures that your insurer can process any future claims expediently and accurately.
Get Electrician Insurance Today
If you are interested in learning more about electrician insurance, we recommend preparing the following information for a productive call:
Your license number
Your history of losses and claims
Your level of experience
Years of operation
Information from the previous list regarding cost factors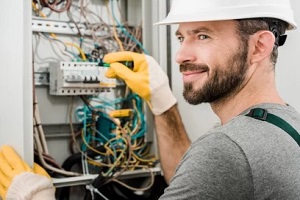 Electricians must ensure that they have adequate and comprehensive electrician liability insurance coverage to be prepared for the unfortunate possibility that claims are made against them, or if their equipment, property or well-being is damaged or injured.
Having thorough and proactive coverage is also often a requirement to be considered for certain jobs, and it can protect you from financial ruin.
Contact Pro Insurance Group today to learn more about electrician insurance coverage and why our offerings are the premier way to protect your business. Our expert agents will work with each customer one-on-one and become personal advocates for them, regardless of their insurance needs or financial situation, to receive the most accurate coverage.
After a thorough assessment of the needs of your business, we will provide you with a personalized policy, no matter what electrical work your business performs, or the size of your company. To receive your quote, get in touch with Pro Insurance Group at (833) 619-0799 or contact us online today.