Becoming a landlord property manager is a great way to add consistent and reliable revenue, which may serve as supplemental income or give you the opportunity to retire. A property manager also called a real estate manager, is a person (or real estate firm) that manages the ongoing upkeep and renting of a property. The primary owner does not reside in this property and instead, provides it for rent to another party in exchange for a service fee.
What Does A Property Manager Do?
The primary role of a property manager is to oversee the tenancy of a rental property. This typically includes advertising the property for rent and selecting a tenant. The tenant selected should be capable of caring for the home and reliably making timely monthly rent payments.
The property manager may also manage the repair and maintenance services that are required on behalf of the homeowner, along with lease renewals, addressing problem tenants, move in and move out inspections, and if necessary, the eviction process. Many property managers also assist with the home sale process as well.
What Are The Qualifications, Certifications And Licensing Requirements To Become A Property Manager?
Almost all states require that property managers obtain a license before they begin working within the industry. Certification is not required before becoming a property manager, although it can establish trust with homeowners who are interested in your services.
Qualifications
There are few required qualifications to become a property manager. As long as you are over the age of 21, possess a high school diploma (or equivalent) and are a U.S. citizen or permanent resident, you are eligible to become a property manager. You will also need to pass your state's real estate licensing exam and all preliminary work that may be required in your state.
Certifications
Licenses are provided by your state government and are required (see below), but certifications are not required. However, completing certification programs can certainly help you get started as a property manager. The most notable certification programs to consider include:
Certified Apartment Manager (CAM)
Certified Property Manager (CPM)
Master Property Manager (MPM)
Certifications can help you establish trust with prospective clients as you begin your property management journey. This is particularly helpful if, as when starting out, you do not have much experience as a property manager.
Licensing Requirements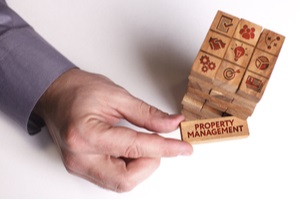 All but six states mandate that property managers obtain licensing. The only exception is if you are an entry level employee that is working with a property manager or broker, then you do not need a license. However, if you intend to be your own property manager, then you must obtain the proper real estate and property management licenses that your state requires.
What Skills Do I Need To Do Well As A Property Manager?
Once you obtain the proper state licensing and go through any certification programs that you deem useful to your path, you can shift your focus to fine-tuning your skills as a property manager. Property managers typically serve as the liaison between the homeowner that provides the rental home and the tenant who will reside in the home, making it easier for both parties. To be successful in this job, property managers should possess these skills:
Good communication
Responsiveness
Customer service
Organizational skills
Marketing skills
Clear communication is of the utmost importance. This not only means the ability to relay information to both parties, but it also means being attentive and responsive. Offering friendly and professional customer service ensures both tenants and homeowners that they can trust you.
In addition, successful property managers understand the importance of organizational skills, specifically as it relates to keeping detailed records of contract information, maintenance files, and more. Lastly, the ability to market both your own property manager business as well as marketing the homes of your clients is crucial to being a successful property manager.
What Income Can I Expect As A Property Manager?
The income that you can expect as a property manager will be determined by many factors. According to Indeed, the average income for a property manager is approximately $57,000, but the range can vary widely.
How Can I Get Started As A Property Manager?
The first step to becoming a property manager is ensuring that you are properly qualified, licensed and have demonstrated training through certifications. To gain experience, it can help to first work with a property manager or realty group to understand all facets of the industry.
Speak With A Broker At Pro Insurance Group
Pro Insurance Group offers insurance coverage for individuals and businesses. To learn more about how we can help your property management business with trustworthy and reputable insurance coverage, call or send us a message today. We can answer your initial questions and provide you with a free quote.