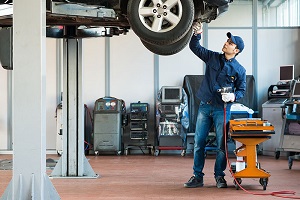 If you are considering purchasing Garage Keepers insurance or Garage Keepers Legal Liability Insurance, it is important to consider how much you need to cover and a realistic idea of your budget.
Of course, there are many factors to consider when comparing Garage Keepers insurance which can help you find the right policy for you.
Why Do I Need Garage Keepers Insurance?
If you own a business that regularly services vehicles, such as a towing company, detailing company or auto shop, you will need Garage Keepers Insurance to protect not only your vehicles, but those in your care while you provide service. This is particularly important for smaller businesses as a single accident could be financially devastating without the proper insurance.
A customer's car is protected by Garage Keepers Insurance should it be damaged under your possession. Damages caused by events such as a fire, theft, extreme weather, accidental damage and vandalism are all covered risks.
How is The Price of Garage Keepers Insurance Determined?
When comparing policies and pricing for this insurance, the primary factor will be the nature of your business. If your business details cars, performs maintenance or stores vehicles it will be important to estimate how long cars are in your possession, and the typical value of those vehicles. The type of vehicles you service may have a significant impact on the policy amount you purchase particularly if you primarily work with luxury model vehicles.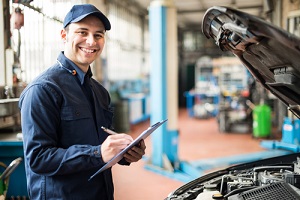 The location of your business is also important to your policy's cost, as the safety of the area will impact the policy's cost. Areas of high crime, particularly those involving theft or destruction, may see considerably higher policy premiums than for businesses located in areas experiencing far less crime.
One final factor to consider is the number of vehicles you are servicing on any given day. If a high volume of vehicles come through your business each day, your costs may be higher to ensure all vehicles are covered.
It is important to note that even though vehicles in your care are covered through garage keepers insurance, there are some items that are excluded. Possessions in the vehicle such as non-factory stereo equipment, objects in the glove compartment or trunk are not covered by the insurance.
Although there may be many factors to consider when estimating a Garage Keepers insurance policy, a typical rough estimate may be $1,000 to $1,300 per year for comprehensive and collision Garage Keepers Insurance. These rates may vary from as low as $800 to as high as $2,000 per year, though. However, there are ways to keep your rate low while still getting the right policy for you.
How Do I Get the Best Price for Garage Keepers Insurance?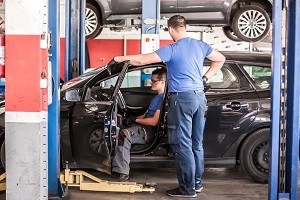 Even if your business meets criteria that indicate a high policy, there are still ways to keep those prices down. One of the best ways to keep your cost down is by accurately evaluating your risk. The best-priced policies will often go to businesses with very few accidents, that work towards safety and who pay their premiums regularly on time and in full.
Another way to keep policy prices low is by introducing safety programs. There are plenty of programs that will train and certify your business to operate safely and avoid accidents. Certifications and safety conscious business practices are a great way to reduce Garage Keepers insurance rates.
What Should I Look for When Purchasing a Garage Keepers Insurance Plan?
When preparing for a Garage Keepers Insurance plan, first consider policy limits and deductibles. For example, you may save money by setting your premium low but by doing that, your deductible increases. You may be saving money now, but in the event of an accident, you may be responsible for a deductible that is beyond your budget.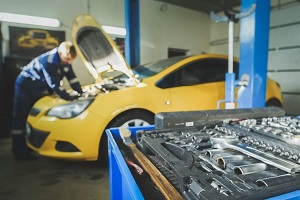 Another thing to consider is your payment plan. Garage Keepers insurance plans generally allow you to control when and how often you want to pay your premium. In most cases, it is less expensive to make fewer payments of larger sums than it is to pay smaller amounts in more frequent intervals.
You will more than likely receive a better rate by paying for the entire year up front than to make monthly payments over the course of the year. By comparatively shopping, you are more likely to not only get the best policy, but at the best price.
Contact different agencies and get a quote for their comparable coverage plans. By comparing providers, prices and quality of the policies, you will be able to find the right plan for your business.
It is important to keep your business protected through quality coverage. If you are interested in learning more about Garage Keepers insurance, contact Pro Insurance Group at 833.619.0770 or request a quote today.