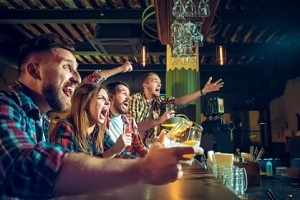 Often our best memories were made in sports bars. Most patrons are respectful and well-mannered. But some may take things too far, opening your bar up for claims you are liable for incidents. This review closely examines the liability risks that sports bar owners assume.
What Are the Liability Risks for Sports Bars?
The liability risks may look different for every sports bar depending on the location and type of their establishment. However, there are joint liabilities that sports bars should prepare for by obtaining a reliable liability insurance policy from a reputable provider.
Some of the most significant liability risks that sports bar owners face include claims that the bar owner is liable for injuries that result from bar fights or intoxication, fires that break out and cause injury or property damage, DUI charges, underage drinkers, and contaminated food.
Injury From Bar Fights
Bar fight injuries may be the single biggest risk bar owners face. For example, a patron may claim that you were slow to break up a fight or the fight resulted from alcohol that you served to them or another patron. In this case, you may be held liable for any injuries that occur; you may also be held financially accountable for the costs of property damage.
For instance, if someone's phone was broken due to a fight involving two other patrons, they may claim you are liable and must pay to replace the phone. In more severe cases, someone may have their car damaged in a way that requires a significant cost to repair.
Accidental Injuries Due to Intoxication
Some injuries that occur are not violent but instead due to intoxication. For example, if a patron trips and falls down the stairs while leaving your bar due to them being too intoxicated, they may claim you are liable for their injuries. In other words, you may be held liable even if the injury is unrelated to a physical altercation.
Fire Hazards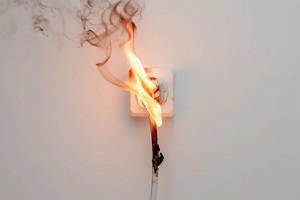 You may be liable if a fire causes property damage or bodily injury. In some cases, smoke is enough to cause panic and lead to someone being injured as they rush for the exits, which may lead to claims that you are liable.
Driving Under the Influence (DUI)
Your sports bar may be held financially liable for claims of property damage or bodily injury that results from one or more of your patrons driving drunk once they leave your establishment. Although this may seem unfair, you are serving the patron alcohol.
Even with preventive measures to help reduce the risk of a DUI incident, doing alcohol could open your bar up to a potential lawsuit. Fortunately, a liquor liability insurance policy and a liquor license help mitigate the risk associated with claims that you are liable for DUI-related incidents.
Underage Drinkers
As you know, serving alcohol to an underage patron carries significant risk. You may already have extensive security measures to help avoid underage drinkers from entering your establishment and ordering drinks. However, there is only so much screening you can do, and underage patrons can still find their way to the alcohol that you serve.
If an underage drinker hurts someone else, causes property damage (i.e., via an auto accident while they are driving under the influence), or develops alcohol poisoning, then your bar may be held liable for the associated property damage and medical costs.
Contaminated Food
Contaminated food also threatens bars, mainly if the food is served to a patron, leading to them falling ill. For this reason, your bar should ensure measures are implemented to reduce the amount of food spoilage.
How to Protect Your Sports Bar Against Liability Claims
You can take several actions to mitigate the risk of liability claims, such as hiring experienced security and ensuring fire safety. However, your sports bar may still be vulnerable to liability claims even if you do everything right.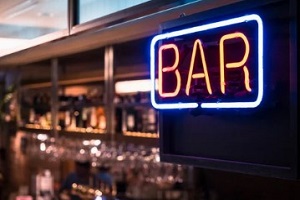 The simple act of serving (and allowing for the consumption of) alcohol on your premises is enough for someone to try and hold you liable for incidents that occur.
For this reason, you will need certain bar insurance coverages to mitigate financial and legal risks for your bar. Notably, this includes liquor liability insurance and general liability insurance for bars.
Pro Insurance Group Offers Liability Insurance for Sports Bars
A personalized liability insurance policy is the best way to protect your sports bar against claims that you are partially or solely responsible for bodily injury or property damage.
From a standard general liability insurance policy to liquor liability insurance, we offer all the coverage your sports bar needs to remain protected long-term. Contact us today for a free policy recommendation and quote.