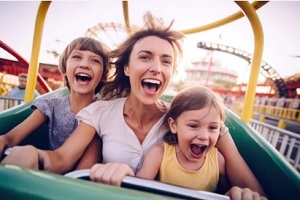 There are many types of family entertainment centers (FECs), from waterparks to arcades. Identifying the FEC sub-sector your establishment may fall within is essential when determining your specific risks (and insurance needs).
This review discusses the basics of family entertainment centers, highlighting the various types and unique insurance risks for each.
What Is a Family Entertainment Center?
A family entertainment center is a business that offers games and other fun recreational events for children and adults. It is a relatively broad term with numerous sub-sectors within the FEC industry (see below). Family entertainment centers cater to entire families, and it's a place where parents can bring their children and grandchildren to enjoy the fun of the day.
What Are the Different Types of Family Entertainment Centers?
Family entertainment center types may have unique needs to keep their guests safe and protect themselves against liability claims. Below we discuss the various types of family entertainment centers.
Children's Entertainment Centers
A children's entertainment center is precisely how it sounds — a recreational facility that provides games and other forms of entertainment for children 12 years and under.
Many centers have different titles, such as indoor-outdoor entertainment centers, soft-contained play centers, and education entertainment centers (see below). Activities at children's entertainment centers may include (but are not limited to) kiddy rides, bouncy houses, go-karts, and indoor play areas.
Multi-Attraction Entertainment Centers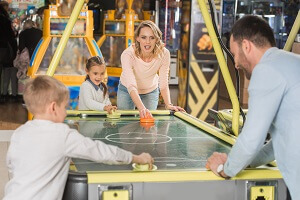 This entertainment center combines many recreational activities and games, including fun rides for children, bounce areas, designated areas for birthday parties, mini golf, go-karts, arcades, and more; some also include soft-play areas.
Due to the nature of the games and the fact that many also serve food and beverages, the risks and insurance coverage needs may exceed the coverage of general liability insurance policies.
Indoor-Outdoor Entertainment Centers
An indoor and outdoor entertainment center includes both indoor and outdoor attractions. A go-kart and mini golf center may offer arcades, child play areas, and birthday parties. These venues typically have a fair amount of real estate space depending on the specific activities. They may assume more insurance-related risks like go-karts and roller coaster rides.
Soft-Contained Play Centers
Soft-contained play equipment (SCPE) is designed to protect young children and toddlers from harm while playing. Soft-contained play centers focus on soft forms of equipment, which may include plastic tubes for children to crawl through, ball pools, climbing nets, slides, and padded floors.
Eater-tainment Centers (Restaurant + Entertainment)
Many are familiar with the family restaurant and play business model. It involves offering food services and entertainment for families. There are many eater-tainment business types. Many are independently-owned businesses that are not chains with multiple locations.
For instance, an eater-tainment center may offer a typical restaurant experience, like pizzerias, in addition to games such as arcades and young children, go-karts, mini-golf, and more.
Edu-Tainment Centers (Education + Entertainment)
This unique form of family entertainment center combines childhood learning with entertainment. The idea is for children to learn through fun and often interactive games, such as an adventure tour where children can learn about U.S. or world history by taking a hike with checkpoints that teach a lesson.
Although the risks to operating an edu-tainment center are generally lower, there is typically a need for a personalized liability insurance policy to minimize risk.
Adult Entertainment Centers
Family entertainment centers are primarily geared toward family fun for children; however, some adult entertainment centers offer fun games and events only for adults. For example, an escape room is often characterized as a family entertainment center; adult siblings and their spouses can get together to enjoy the experience of solving riddles to escape a locked room.
Retail Entertainment Centers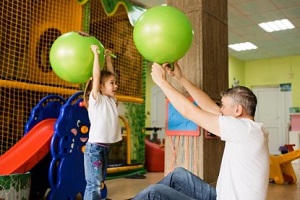 Lastly, a retail entertainment center combines shopping with fun activities and games. For example, a mall may offer an arcade center and play area in addition to dozens of stores for the guests to shop at while they are there. Retail centers or stores that provide entertainment centers may also need specialized insurance to minimize their risks.
Pro Insurance Group Offers Family Entertainment Center (FEC) Insurance
Pro Insurance Group takes pride in helping family entertainment centers with the necessary insurance coverage. We offer competitive prices and are always there when you file a claim. Contact us today or request a free quote online for more information and to get your personalized policy started.